We believe that each activity, especially agriculture, should be as much as possible sustainable.

It requires commitment, passion and belief in what we do!

Only a farm sustainable for man and environment can have a vision on a long term.
SUSTAINABILITY
FOR ANIMALS
ATTENTION TO NUTRITION
Our production of fodder, entirely harvested in Upper Baganza Valley is sufficient to feed our animals all the year long.

We use exclusively organic grass and fodder from our fields supplementing nutrition with blends of cereals certified organic.

ATTENTION TO THE ANIMALS WELFARE
Our animals are selected, in addition to the superior quality of the milk, to a major longevity and rusticity. Farming with respect allows to have healthier and more long-life animals. All our animals were born and grew up in our farm. They live in stable but have space to move both inside and outside.

The young animals, in summer, live in high altitude pastures so that they can eat in a natural way and develop better

TAKE CARE OF THE ANIMALS
In case of needs we use homeopathic remedies limiting antibiotics or other medicines. In this way, we avoid residue in the milk and favour a longer life of the animals. Homeopathy favours the natural defences and is well tolerated by the animals.

"I think having land and not ruining it is the most beautiful form of art that you could wish for." (Andy Warhol)
SUSTAINABILITY FOR THE ENVIRONMENT
WE GROW SUSTAINABLY
We limit the work on the ground to keep it more vital;

Only organic fertilization of our animals in defense of the natural fertility of the ground;

No chemical products (fertilisers, pesticide, herbicide) to defend the consumers' health;


WE FARM SUSTAINABLE
High-mountain pastures allows animals for more than six months to be free to pasture and this practice keeps a mountain meadow, a very important ecosystem in our Apennines.

We accompany this choice a tradition we are very fond of: the transhumance. In autumn, infact we accompany our animals back to the stables by horses: a "two day" immersion in the nature.
SUSTAINABILITY FOR THE COMMUNITY
SHORT AND SUPPORTIVE SUPPLY CHAIN
We believe in distribution alternative to the industry through direct selling, specialized shops and gas.

For this last selling channel the UNESCO biosphere reserve for the Tosco-Emiliano Apennine has recognized us as firm committed to the common project "Take care of the Apennine", of its territory, its biodiversity and its communities. The recognition identifies us inside the "Short and Supportive Supply Chain".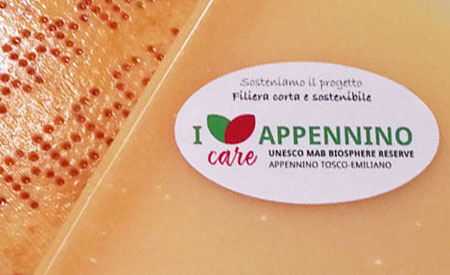 Would you like to know more? Read the article by Apenninus.
GAS ENTERTAINMENT
Periodically we like to find time for meetings, that's why we organize "GAS Entertainment" an occasion to meet, to visit us and our territory to combine culture and comparison.


DIRECT SELLING
We choose to be present at Fairs or Markets to promote typical products representative of small realities. Often times in these markets a real relationship of trust between consumers and producers develops.